Homes in Englewood, Colorado
Located south of downtown Denver, Englewood provides commuting ease for those working or playing in or near downtown, including light rail that runs alongside Santa Fe Drive and the South Platte River. Recreational facilities are in abundance, including the Pirates Cove Family Aquatic Center with swimming pools and a sparkling river. The Museum of Outdoor Arts features interactive artwork and a beautiful sculpture garden in the great outdoors.

You'll find historic movie theaters, including some that host musicians and other performers throughout the year. Founded during the mid-1800s, Englewood also offers a variety of homes in a pleasing mix of price ranges and styles. The community includes quality schools and a historic town center.
List of Zipcodes
| Zip Code | Zip Code Name | Zip Code Population |
| --- | --- | --- |
| 80110 | | |
| 80113 | Englewood | 23,009 |
| 80120 | | |
| 80150 | | |
| 80151 | | |
Demographics
| | Zip Code | City | County | State | National |
| --- | --- | --- | --- | --- | --- |
| Population | 4,270 | 32,993 | 654,892 | 5,759,582 | 331,426,769 |
| Population Density | 49.4 | 5,036.2 | 820.6 | 55.5 | 93.8 |
| Percent Male | 49.0% | 50.0% | 49.0% | 49.0% | 49.0% |
| Percent Female | 51.0% | 50.0% | 51.0% | 51.0% | 51.0% |
| Median Age | 50.8 | 40.0 | 38.9 | 40.2 | 39.0 |
| People per Household | 2.6 | 2.1 | 2.5 | 2.8 | 2.6 |
| Median Household Income | $106,904 | $58,573 | $75,120 | $115,942 | $61,963 |
| Average Income per Capital | $52,013 | $37,928 | $40,034 | $50,725 | $33,235 |
Market Data
| | Zip Code | City | County | State | National |
| --- | --- | --- | --- | --- | --- |
| Median Sale Price | $725,000 | $472,650 | $402,500 | $425,100 | $277,796 |
| Median Age of Home | 37.0 | 64.0 | 47.0 | 39.0 | 49.0 |
| Homes Owned | 86.0% | 46.0% | 61.0% | 67.0% | 58.0% |
| Homes Rented | 10.0% | 47.0% | 34.0% | 23.0% | 31.0% |
| Homes Vacant | 5.0% | 7.0% | 6.0% | 4.0% | 11.0% |
Market Trend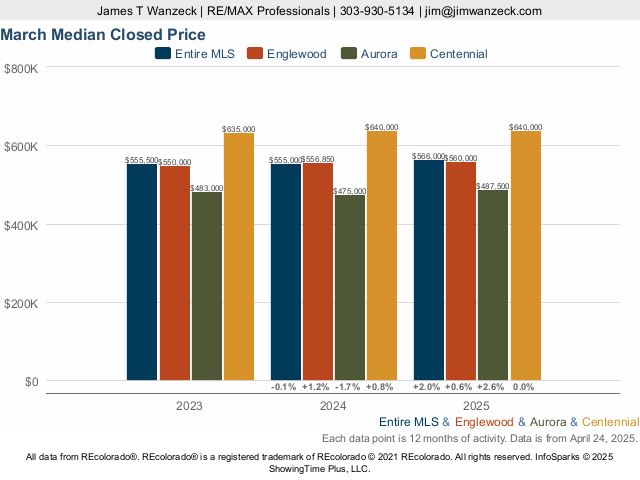 148 properties on market
Contact Us
RE/MAX Professionals
6020 Greenwood Plaza Boulevard
Greenwood Village, CO 80111, USA
Valuation Index
Quality of Life - 90%
Climate & Environment - 75%
Schools & Education - 73%
Safety & Crime - 17%
Quality of Life
| | Zip Code | City | County | State | National |
| --- | --- | --- | --- | --- | --- |
| Cost of Living Index | 110.0 | 80.0 | 102.0 | 110.0 | 100.0 |
| Health Cost Index | 121.0 | 92.0 | 114.0 | 119.0 | 100.0 |
| Commute Time | 25.0 | 24.0 | 25.0 | 25.0 | 24.8 |
| Commuting by Bus | 0% | 5.0% | 3.0% | 1.2% | 2.1% |
| Commuting by Carpool | 7.0% | 13.0% | 11.0% | 11.0% | 13.5% |
| Commuting by Auto | 76.0% | 79.0% | 81.0% | 80.0% | 79.1% |
| Working at Home | 16.0% | 3.0% | 4.0% | 5.2% | 4.7% |
Walk Score®
Climate & Environment
| | Zip Code | City | County | State | National |
| --- | --- | --- | --- | --- | --- |
| January Average Low Temperature | 13.6 °F | 15.6 °F | 15.9 °F | 13.7 °F | 22.6 °F |
| July Average High Temperature | 84.0 °F | 88.3 °F | 89.5 °F | 77.5 °F | 86.1 °F |
| Annual Precipitation (inch) | 17 in. | 18 in. | 18 in. | 19 in. | 38 in. |
Schools & Education
Safety & Crime
Zip Code
City
County
State
National

Violent Crimes

Calculated annually per 100,000 residents

Assault
162.9
255.4
291.4
246.3
250.2
Murder
2.2
2.3
7.2
3.8
5.0
Rape
70.4
74.4
79.5
67.2
42.6
Robbery
123.3
55.3
164.1
63.6
81.6

Property Crimes

Calculated annually per 100,000 residents

Burglary
223.7
372.9
461.7
348.4
340.5
Theft
360.4
457.2
2,008.4
1,858.3
1,549.5
Motor Vehicle Theft
603.0
602.7
569.1
384.0
219.9
Take a photo of this QR code
to keep this website details